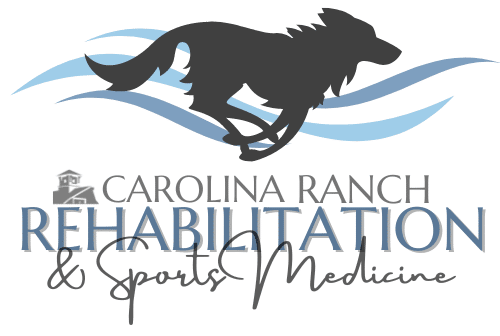 Your Pet Can Benefit From Rehabilitation
Carolina Ranch Animal Hospital is proud to offer a state-of-the-art rehabilitation and sports medicine department. Our rehabilitation department can aid pets throughout the many phases of their lives: from puppies needing to build confidence and foundational exercises, to sports competitors maximizing their performance abilities, to patients rehabbing post-injury or surgery, to our senior pets needing to maintain strength and flexibility.
When Is Rehabilitation Therapy Useful?
Pets can greatly benefit from rehabilitation while coping with many conditions including:
Before and After Surgical Procedures

Post-Trauma

Lameness

Neurological Diseases

Decreased Mobility

Chronic Pain

Arthritis

Senior Patients

Conditioning Canine Athletes

Senior Patients

Sports and Exercise-Related Injuries

Obesity and Weight Management

Cranial Cruciate Ligament Disease (Similar to ACL in Humans)

Degenerative Diseases

Developmental Diseases (Such as Hip Dysplasia, Elbow Dysplasia)

Joint Instability

Non-Surgical Neurological Conditions (Such as FCE, Degenerative Myelopathy)
Treatment Modalities
Our treatment plans are tailored to the individual condition and needs of the patient based on precise diagnoses. A variety of treatment options are available to your pet and may include:
Manual Therapy / Massage: Manual therapy is used to both maintain and improve physical and mental health. Massage therapy promotes relaxation of muscles, increased oxygenation to the body, relief from pain, and improved joint flexibility.
Stretching and Range of Motion (ROM): Stretching helps keep our patients fit, flexible, and feeling great. ROM helps increase blood flow to the joint cartilage, stimulates new cartilage production, and improves overall range of motion at the joint.
Therapeutic Exercises / Strength and Conditioning Programs
Laser Therapy: The use of specific wavelengths of light to create therapeutic effects. These effects include improved healing time, pain reduction, increased circulation, and decreased swelling.
Extracorporeal SHOCKWAVE Therapy (ESWT): Shockwave therapy uses high energy sound waves at the cellular level to accelerate healing, improve blood flow, and provide pain relief.
Underwater Treadmill: The underwater treadmill is a form of hydrotherapy that utilizes the properties of water (buoyancy, hydrostatic pressure, viscosity, and resistance) to improve physiological function. Incorporating the treadmill with water therapy allows for exercise with less strain on the joints, improved range of motion, and increased stability for patients that may have significant weakness.
Land Treadmill
Electrical Stimulation (TENS, NMES)
Joint and Intralesional Injections with Orthobiologics: Such as Platelet-Rich Plasma (PRP), or Palliative Joint Injections with Steriods and Hyaluronic Acid. Platelet-Rich Plasma (PRP) is a patient's own blood sample that is processed to concentrate the blood's platelets, which are the components of blood that assist with clotting. Platelets also contain a number of growth factors and cell mediators that help with tissue healing. Specifically, these growth factors and cell mediators stimulate resident stem (healing) cells to produce components for new tissue. PRP also provides a scaffold (or place) for stem cells to work into, making it easier for stem cells to work at the site of the tissue injury.
Custom-Made Orthotics
Primary Care Rehabilitation
This tier of rehabilitation focuses on needs of recent post-orthopedic surgery and early arthritic patients. Exercises are tailored individually to each patient.
Intermediate Care Rehabilitation
This tier of rehabilitation is designed for patients with more intense needs than our early arthritis cases. This typically includes patients with more advanced muscle loss, early neurological cases, or intense post-orthopedic surgery (ex. multiple fracture repairs). Exercises are tailored individually to each patient.
Advanced Care Rehabilitation
This tier of rehabilitation is for patients that have multiple areas to address. This level is also perfect for more advanced neurologic patients, or patients that require mobility assistance. Exercises are tailored individually to each patient.
Performance/Hydrotherapy Rehabilitation
This tier is tailored to each individual dog and owner's goals. Great for general physical conditioning, weight loss, and performance maintenance for sport/performance work. Therapies can include therapeutic land exercises and underwater treadmill.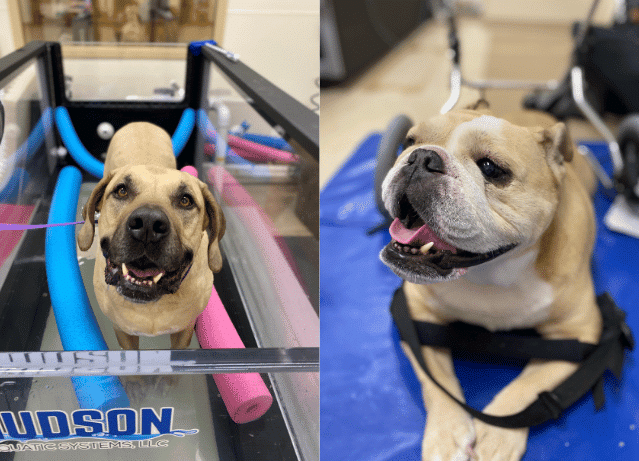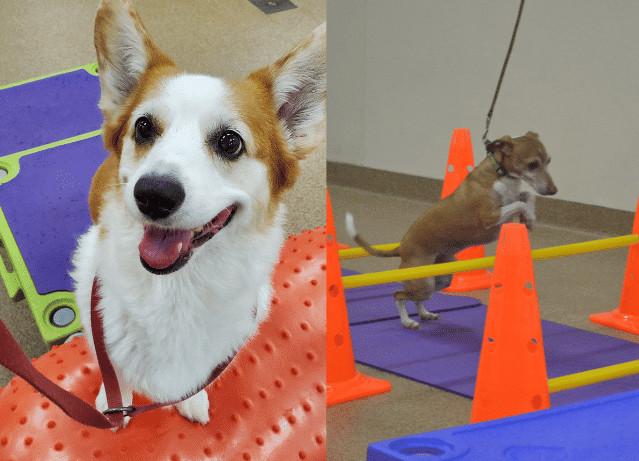 Fit Fidos:

This drop-off program focuses on fitness and rehabilitative daily activities. After a comprehensive evaluation, our rehab team will develop an individualized program to help your pet have optimal fitness and health.

Sassy Silvers:  This program is especially designed for middle-aged to older canine friends with a focus on fitness and rehabilitative social activities. After a comprehensive evaluation, our rehab team will develop an individualized program to help your pet have optimal fitness and health. This program is for existing Dogwarts Doggie Daycare students only.
What are the benefits of animal rehab?
Animal rehab, or rehabilitation, has several benefits for animals who have suffered injuries, illnesses, or surgeries. It can help animals regain strength, flexibility, and mobility through exercises and therapies tailored to their specific needs. Rehab can also reduce pain and swelling, improve circulation, and prevent further injury. Additionally, rehab can improve an animal's mental and emotional well-being by providing stimulation, socialization, and positive reinforcement. Animal rehab can be particularly helpful for older pets or those with chronic conditions, as it can improve their quality of life and extend their lifespan.
Do dogs need physical therapy after surgery?
Yes, dogs often require physical therapy after surgery to help them recover and regain their mobility. Surgery can cause pain, swelling, and muscle atrophy, which can limit a dog's ability to move and function normally. Physical therapy can help reduce pain and inflammation, increase range of motion, and strengthen muscles. Additionally, physical therapy can help prevent complications such as scar tissue or joint stiffness. Depending on the type of surgery and the dog's condition, physical therapy may involve exercises, massage, hydrotherapy, and other techniques. It's important to work with a licensed and experienced veterinary professional to develop a comprehensive physical therapy plan for your dog after surgery.
Can you rehabilitate an old dog?
Yes, you can rehabilitate an old dog through physical therapy, exercise, and other treatments. Even if a dog is elderly or has chronic conditions, rehabilitation can help improve its mobility, reduce pain and discomfort, and improve its quality of life. It's important to work with a licensed veterinarian or animal rehabilitation professional to develop a tailored treatment plan that addresses the dog's specific needs and limitations.