Grooming & Bathing
Salon & Day Spa For Your Pets

Our professional in-house grooming staff is well equipped to satisfy even the most challenging grooms, including cats.
We use proven grooming techniques to safely bathe and groom your pet. Whether you want a deshedding treatment or a perfect cut for your show dog, you can rest assured when you drop your furry friend off with us, you'll pick them up looking the best!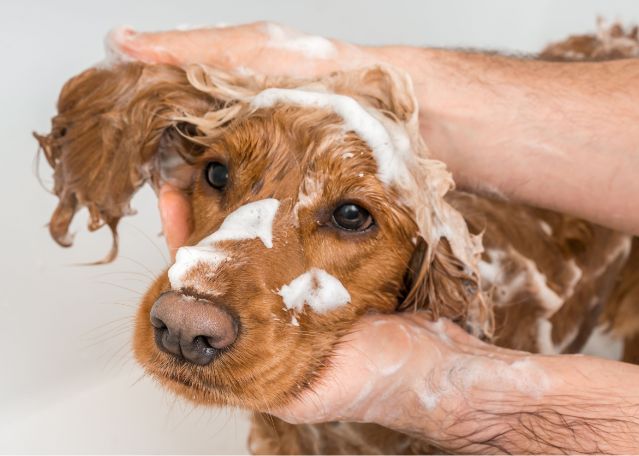 Standard Groom
(Includes bath, nail trim, ear cleaning, and hair cut)
Groom prices are based on pet's size, breed, style of cut and condition of coat
Bathing
(Baths are based on size, breed, and condition of coat)
Deluxe Bath
Includes bath, brush, nail trim, and ear cleaning
Additional costs may be incurred due to matting, excessive shedding, or temperament.
Other Services
Nail Dremel w/ Bath or Groom
Teeth Brushing w/ Groom or Bath
Anal Gland Expression w/ Groom or Bath
Grooming & Bathing Requirements
Up to date vaccinations are required for grooming appointments, including 6-Month Intranasal Bordetella (must cover bordetella, adenovirus, and parainfluenza), Rabies and DHPP. FVRCP and Rabies are required for cats.
We Can Accommodate
Cat Grooming
Geriatric Pets
Special Needs Pets
Sedation Options

Please call
919-662-3200
for availability or click the link below to request an appointment for your pet's spa day.
Common Grooming Questions
---
---
Q

When should I schedule my pet's first grooming?
A
Typically, 12-16 weeks of age. Even if your pet does not need a full groom, this is the best age to get your pet used to the clippers and other procedures involved in full grooming.
Q

How often should my pet be groomed?
A
The groomer will be happy to set up a schedule for you based on your pet's needs. But, on average, groomable breeds should be groomed at 4-8 week intervals.
Q

Can my pet be groomed and see the veterinarian the same day?
A
Most veterinary procedures, such as updating vaccines or investigating health concerns, can be completed the same day your pet is groomed. We can also make it a "spa day" and incorporate a half day of "Doggie Daycare."
Q

What's the difference between a groom and a bath?
A
Grooming involves cutting or styling your pet's coat along with a shampoo, conditioner and blow dry. Bathing can be provided by one of our qualified bathers and includes a shampoo, conditioner, blow dry and thorough brushing. To schedule a bath, see the area to the right under the "Bathing" heading.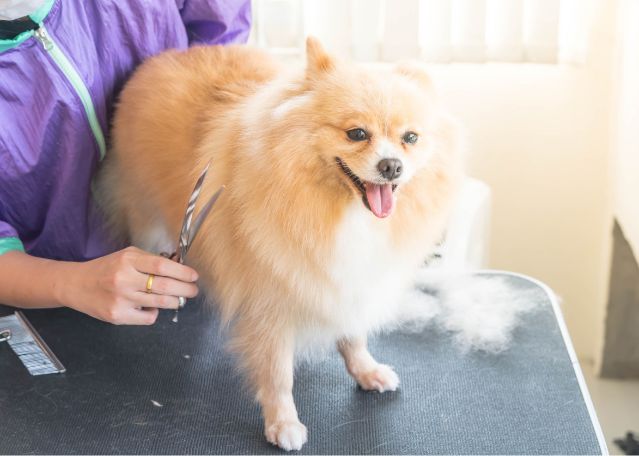 Routine Services
Professional Grooming for Beautiful Pets
Our team of bathers and groomers are trained and experienced in safe bathing and grooming techniques, and are prepared for anything your pet can throw at them. We'll remove mats, trim nails, brush out tangles and respond sensitively to nervous animals.
Request Appointment