Pet Wellness Challenge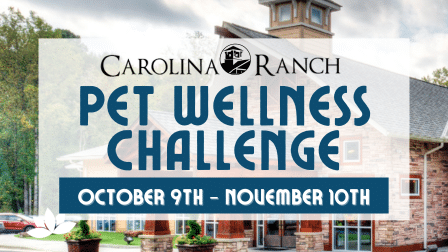 In honor of Pet Wellness Month (October) and Pet Obesity Awareness Day (October 11th), we invite you to celebrate in a month-long awareness extravaganza!
By celebrating🎉 with us, you'll have plenty of opportunities to earn raffle tickets🎫 for prizes and extra loyalty paws🐾 all month long.
There's few things you'll need to get started.
✔️ Be a Current Veterinary Client
✔️ Download the Carolina Ranch App & Turn Notifications On
Vet Visit: Set up a nutritional assessment (or start the discussion during your pet's wellness exam) with one of our amazing veterinarians👩‍⚕️.
Come On In: Bring your pet in to be weighed once a week.
Weigh At Home: Weigh your pet in the comfort of your own home and submit their recorded weight in our Carolina Ranch app📱 once a week.
Get Social: Participate in our various posts and polls on social media💬.
Weighing Your Cat At Home
Weighing Your Dog At Home