Laparoscopic Services
Advanced, Minimally Invasive Technology
Carolina Ranch now offers the option of laparoscopic surgery for dogs over 20 pounds. Laparoscopic surgical options provide less pain, decreased blood loss, and quicker recovery for our four-legged family members. This minimally invasive technology enables the doctor to place a tiny scope and instruments inside the patient for spay procedures, biopsies, and many other applications including the ability to put a scope into an ear, nose, or abdomen to better evaluate treatment options.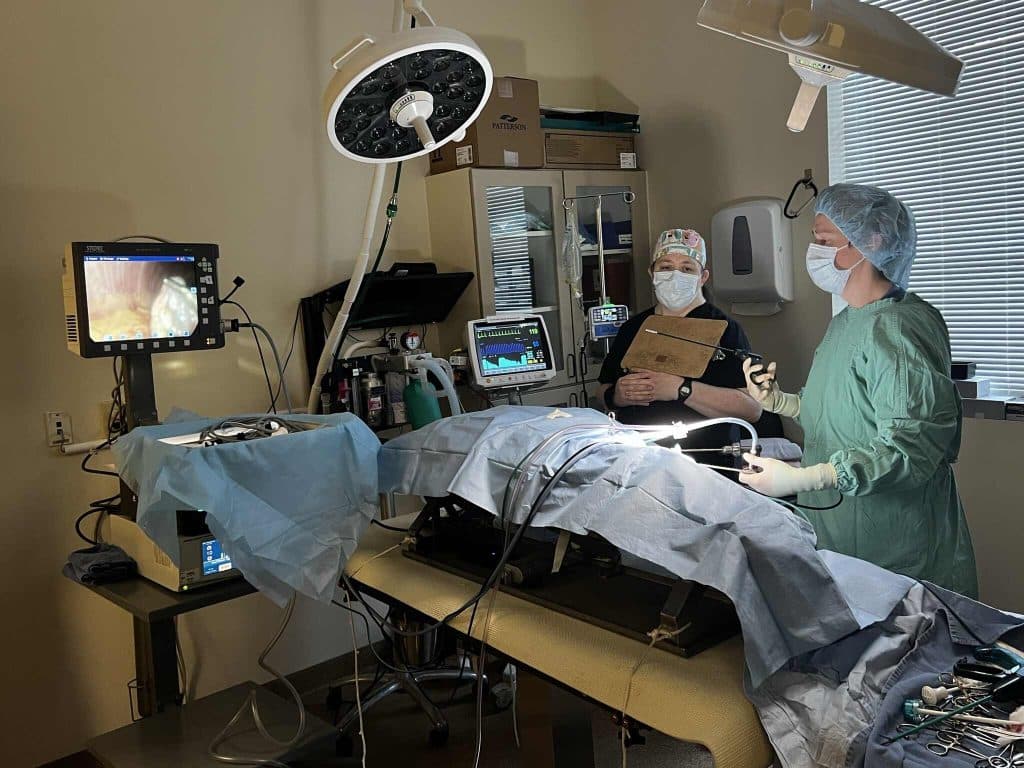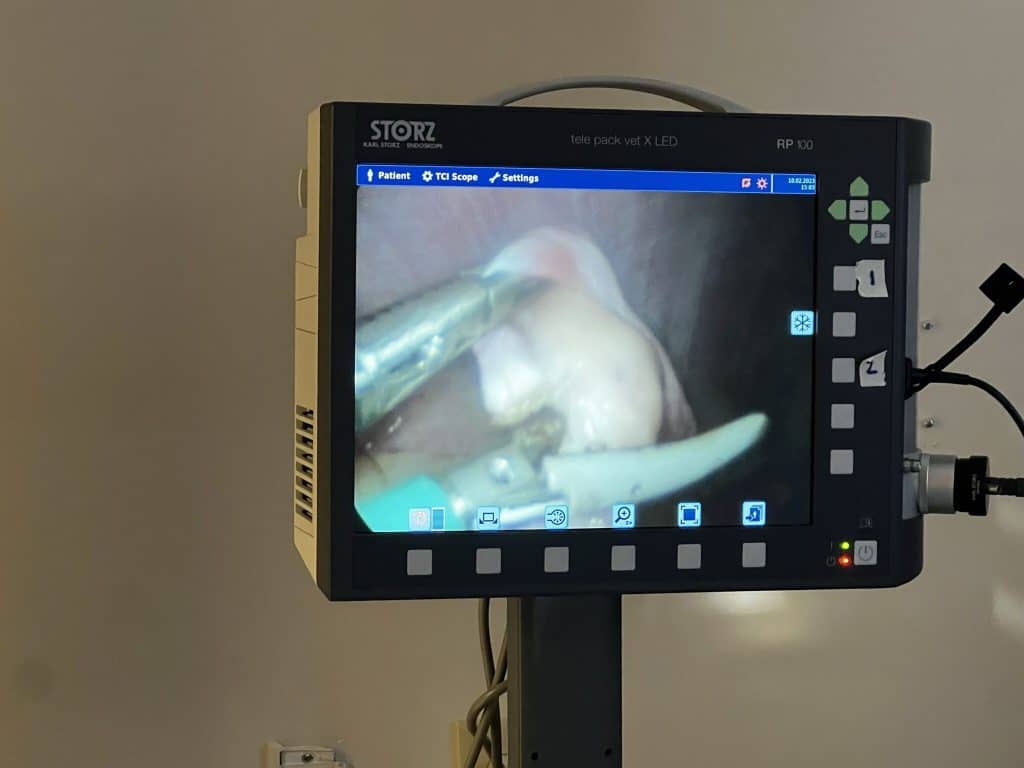 What is laparoscopic surgery?
Laparoscopic surgery is a minimally invasive surgical technique allowing surgeons to perform surgery through 2-3 small incisions (which are each approximately ½ inch long) rather than opening the abdomen with a longer – often 3- 6 inches – incision. A camera is introduced through the incision to provide excellent visualization of the anatomy, and a sealing device is used to clamp, cauterize, and cut vessels and attachments. The vessel sealing device replaces sutures and ligatures that can become loose with excess activity.
Is this the same technology that is used in human surgery?
Yes! We utilize the same level of technology that has become the standard of care in human medicine over the past 25 years.
Is there a benefit to laparoscopy?
The visualization and magnification of laparoscopic equipment allows a more precise surgery with ultimately less trauma and pain. Reduced pain may also require less anesthesia during the operation. Plus, multiple smaller incisions have less risk of infection and heal more quickly.
What is my pet's recovery like after laparoscopic surgery?
Pets actually recover much faster after a laparoscopic procedure than traditional abdominal surgery. Not only do the smaller incisions in the abdominal wall heal very rapidly but the use of the vessel sealing device improves safety and reduces the risk of the sutures loosening and bleeding. Typical activity restriction following a laparoscopic spay is 3-4 days instead of 10-14 days. They do still need to wear an e-collar to prevent licking of the incision site.
Should I have my dog spayed laparoscopically?
Any female dog can be spayed (have her ovaries removed) laparoscopically and enjoy the benefits previously mentioned. Laparoscopic spays are particularly great for spaying large dogs (over 50 pounds), older dogs, overweight dogs, and previously pregnant dogs. Each of these dogs can have a greater risk of complications with a traditional spay because of the excess fat around the ovaries and attachments. That fat can make it particularly hard to tighten the ligatures when performing a traditional spay. However, with a laparoscopic spay using the camera and the vessel sealing device gives the surgeon excellent visualization and access to those attachments and once sealed and detached, the surgeon can confirm with the camera that there is no further bleeding.
What laparoscopic surgeries are available at Carolina Ranch?
Laparoscopic Spay (removal of ovaries)
Laparoscopic Cryptorchid Surgery (removal of retained testicle from the abdomen)
Laparoscopic Liver Biopsy
Laparoscopic-Assisted Gastropexy (tacking of the stomach to the abdominal wall)