Did Somebody Say Christmas?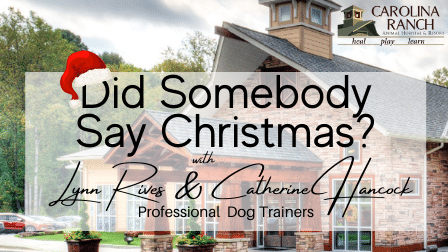 Christmas is a time of coming together and sharing special moments with the ones we love. Often, we spend additional time with our biped friends; however, with a little imagination, we can include our pets in the celebration and create memories that will last a lifetime.
What to do?
1) Take Christmas photos! Spend a little time ensuring your pup is not worried about any prop you use – or just do a photo in front of the tree. Use treats and remember to say CHEESE PLEASE!!
2) Take a walk & enjoy the scenery! While some of the decorations may appear strange to your dog, many pups enjoy the walk and love the extra sniffing time they get as their guardians stop to admire the lights.
3) Make Cookies! Dog cookies, that is. There are some wonderful recipes for dog cookies available that do not include sugar or chocolate (zero chocolate please, due to toxicity). Baking cookies for your favorite pooch will fill dog and human hearts with joy! Remember when cooling the cookies to place them back and away from the kitchen or stove edges. Few things encourage counter surfing like cooling cookies at counter surfing height!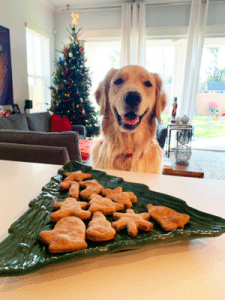 4) Consider buying or making bone broth! Eggnog, alcohol, and hot cider should not be given to your pup; however, bone broth for pup and cider for you? Lovely! Of course, you could BOTH have bone broth. Cheers to good health!
5) Christmas Day…take your pup with you or leave them at home? It is a tough choice; however, many pups do NOT enjoy housefuls of people (loud, tipsy?, running about, doors opening to the outside world frequently, lots to ingest from the floor or from tiny hands that may not be healthy for your dog, etc). If your gathering is fairly small AND you can share time with both your pet and your guests, inclusion can be a good thing. Remember, small children and unsupervised children are NOT best. While bites can occur, foods that children love (grapes, some gums) are toxic to dogs. Children's toys can easily be ingested by dogs (and vice versa) that can cause a trip to the ER and possibly surgery.
Christmas Preparations & Decorations
1) Barriers! Place an exercise pen or other barrier around the Christmas tree. This eliminates your dog from being able to access the tree. No ornaments eaten, no needles ingested, etc! Electrical cords will not be accessible either!! Win:Win!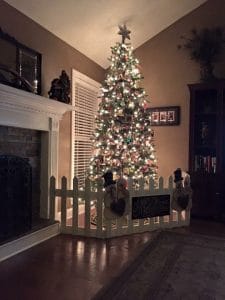 2) No edibles on the tree or within reach of your pup (or cat)! For folks who love to string popcorn for their tree – please reconsider.
3) Cords! Secure cords under tape or otherwise cover (see #1 above). Electricity can kill!
4) Secure the tree! Add an anchor to your tree base, and/or add a wall tether to eliminate a tipping hazard.
5) Eating non-edibles! If new objects are within your dog's reach, they likely will be enticing and possibly eaten by your pet. Strive to keep decorations above your dog's reach (and your toddlers).
6) Plants! There are a lot of toxic plants in our world; however, common Christmas ones (list is not comprehensive) to avoid are: holly (berries), mistletoe (berries), English ivy, yew, amaryllis (bulb), poinsettia (mildly toxic), cyclamen, Christmas rose (Helleborus niger). Poisonous | NC State (ncsu.edu)
7) Noises/Music! Christmas music can be a lovely addition for the holidays. Holiday voice songs and instrumentals help all of us feel more "in the spirit" of the season. Some noises (fireworks and loudly played music for example) can be quite aversive for our pets. No fireworks, and soothing music are best bets for happy pets.